We continue our in-depth look at the future of online video advertising by exploring the potential of outstream video formats and Amazon in 2018.
Online video is the here and now and the future. According to eMarketer, online video growth is expected to grow from roughly $13 billion in 2017 to over $22 billion by 2021 in the US alone.
In the previous blogs of our 'Online video advertising in 2018' series we looked at the future of Facebook and YouTube and the opportunities for marketers. In this follow-up we continue by looking at the roles of other players in this highly-competitive market.
THE GROWTH OF OUTSTREAM
Over the last few years, so-called in-stream video formats (such as pre-roll and mid-roll) have been challenged for dominance by what are known as out-stream video formats.
Largely designed to provide a better user experience for mobile, these video ads appear directly inline in the publisher's or social media news feeds. Despite evidence to suggest that outstream is not as effective as pre-roll, the format has rapidly grown.
In 2017, investment in outstream and social in-feed video ads in the UK nearly doubled from the previous year. As a result it's now the most popular format, accounting for 52% of video spend, overtaking pre- and post-roll ads.
BUT CONCERNS EXIST
However, there are potentially some clouds on the horizon for outstream. According to eMarketer, concerns include a heightened susceptibility over potential ad fraud and a relative lack of measurement data to corroborate its value.
There's also a perceived disconnect between the largely text based articles and the video-based ads that are served within them and often, the contextual relevance of the ads can be questionable.
There are further concerns around viewability, and the fact that the ads are usually muted until the audience interacts with them.
From a consumer perspective, there are also usability issues. While many of the outstream providers claim that in-stream video is a great user experience, many users are not so sure.
As we noted in our previous blog, Facebook are taking steps to limit this type of format within its social feed exactly because of these customer experience concerns. This creates an additional knock-on effect, as these changes may seriously reduce traffic to the publishers who rely on Facebook for much of their audience.
AMAZON
Next, we come to Amazon. While still very small in terms of online video advertising, we view it as a sleeping giant in the space. As with all markets that Amazon enter, it has the potential to be an extremely disruptive force in the future. As 2018 progresses we fully expect to see Amazon show its hand.
Over the past few years, Amazon have put a number of elements in play that could have a significant effect in the mid to long term if linked up in the right way. The introduction of Amazon Prime Video was the first step, and even though it doesn't support advertising it's starting to change how people consume video along with players such as Netflix and Hulu.
VOICE ACTIVATION
More recently came the launch of the Amazon Echo Show, a device that links video and voice activation. This also has the power to eat away at the dominance of the traditional TV in the home. Where once people used to point their furniture at the TV in the corner, Amazon is now placing screens in various areas around the home.
More importantly, where we once used to control our TV watching from an electronic programme guide (EPG) via a hand held remote, we now can use voice control. With Comscore predicting that 50% of searches will be made by voice by 2020, this could prove significant in our future relationship with TV.
Effectively, what Amazon is doing is shifting viewing behaviors in the home – and with it the video advertising dynamic. It is surely no coincidence that Amazon have made a major push into ad tech with their own cloud-based service.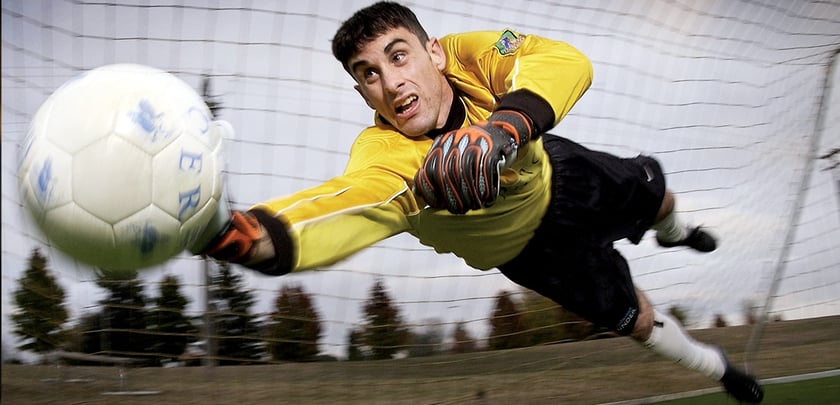 ENTERING THE SPORTS FIELD
Finally, the key anchors keeping people watching traditional TV are live news and sports content. At the beginning of 2018, it was reported in the press that Amazon are starting to look at buying major sports rights such as the English Premiership – probably the largest and most valuable sporting franchise on earth.
With its deep pockets, Amazon could easily outbid rivals such as Sky. If it does decide to go down this route, Amazon has the potential to create a seismic shift in TV viewing habits in much the same way that Sky did in the UK by securing major sporting rights and shifting households to satellite.
When you link all of these elements together, it's clear that Amazon could very quickly become a major player on online video advertising. Definitely one to watch.
THE MERGING OF ONLINE VIDEO AND TV
While talking about more traditional TV, there is one last point to consider. TV still accounts for the vast majority of total video advertising spend, it is still hugely important and will remain so for some time.
While TV is increasingly coming under pressure – either from viewers checking social media during ad breaks, Amazon finding new places to put screens, or kids abandoning TV in favor of YouTube – at the end of the day it's all just video, irrespective of the platform.
According to Thinkbox, the most effective approach is to run online video advertising alongside TV. In reality this makes complete sense, as TV is increasingly just yet another digital device. It really makes no sense to completely separate it from other ways of consuming video.
As addressable TV advertising becomes more established, TV will increasingly start to align with digital to form a single market. While addressable will only account for about 4% of the US TV market by 2019, it's still set to double from 2018 to 2019. So whatever you do, always think of video across all channels rather than in silos.
If subscription streaming services start to compete for advertising revenue, then traditional TV channels will start to feel under even more pressure. While no announcements have been made, rumors still circulate that platforms like Netflix may well be considering a move in this area.
A WORLD OF POSSIBILITIES
There are many options to choose from when it comes to selecting the right partners for your online video campaigns. Much will depend on your strategy, your target audience and your creative approach.
To summarize our 'Online video advertising in 2018' series, here are some of the key considerations for 2018.
FACEBOOK
Still working to overcome issues with viewability, fake news, measurement and data
Huge reach and granular audience targeting capabilities
Could become very powerful if their Watch platform takes off, especially if they can combine contextual and audience targeting for their ads
Along with sister company Instagram – which tends to get better engagement – Facebook should always be high on the list of considerations
YOUTUBE
Still the leader in online video despite many brand safety issues
Excels at contextual targeting, which is the best way to drive successful and safe ads according to IPG Media Labs
Performance is improved even further if using the TrueView format with AdWords
Working with partners such as Precise.TV will help radically improve targeting and brand safety, giving vastly improved performance and peace of mind
Google states that AdWords is GDPR compliant, a serious consideration for marketers concerned with new EU privacy legislation
OUTSTREAM
Has grown hugely over the last few years to rapidly become the dominant form of online video advertising
However, questions remain over its ROI due to issues with measurement and susceptibility to ad fraud
Our advice is to focus on established suppliers with integrations into known and trusted publisher networks
This may cost more in terms of CPM, but will undoubtedly give better results and safer placements
Always look to work with suppliers who are signed up to the IAB Gold Standard
Continue to monitor for evidence of ROI and any user experience backlash
AMAZON
A dark horse in the industry but gradually pushing out into the market
While still small in advertising terms it has the muscle and scale to become a significant player over time
We recommend test campaigns be run to assess effectiveness
May be able to offer targeting based on unique shopper data, in contrast to Facebook's audience targeting and YouTube's contextual targeting
Given the proximity to a shopping environment, Amazon could prove particularly effective at driving greater consideration and conversion