Precise TV Acquires Triton Advertising, Announces IRIS.TV Partnership
Precise TV Acquires Triton Advertising, Announces IRIS.TV Partnership
These announcements accelerate the Precise TV contextual ad platform's ability to help brands buy business outcomes-based premium video advertising across YouTube and connected TV
NEW YORK and LONDON -- January 19, 2022 -- Precise TV, the leading kid safe contextual advertising platform, today announced a strategic partnership with leading video data platform IRIS.TV. Precise TV drives lower funnel business outcomes for brands looking to limit media wastage through contextual video ad targeting on YouTube, Facebook, TikTok and all major digital video platforms. Plugging into IRIS.TV helps extend Precise TV's proprietary buy-side solution into the connected TV (CTV) supply marketplace.

Precise TV has partnered with IRIS.TV to access video-level data from both CTV and FAST (free ad-supported TV) environments. Leveraging its proprietary mix of machine learning models, Precise TV analyzes the video-level metadata it receives from IRIS.TV and organizes it into multi-tier categories such as business, food, travel and toys; and also creates audience personas such as outdoors enthusiasts, social gamers and artisan coffee lovers, to name just a few. As a result, media buyers can purchase brand suitable media and audience segments with a higher likelihood to deliver business outcomes across digital and CTV.
"Precise TV is a proven performance video advertising leader on YouTube, and partnering with IRIS.TV will unlock those same capabilities for connected TV," said Field Garthwaite, CEO of IRIS.TV. "We are laser focused on making it easier for marketers to buy contextually relevant and brand suitable media, and to access specific audience segments based on this analysis, uniformly across premium video and connected TV."
The convergence of YouTube and traditional TV supports the commingling of YouTube and TV ad sales. In fact, a recent GroupM report suggests marketers will look to better integrate the management of campaigns on YouTube and traditional TV rather than manage them separately.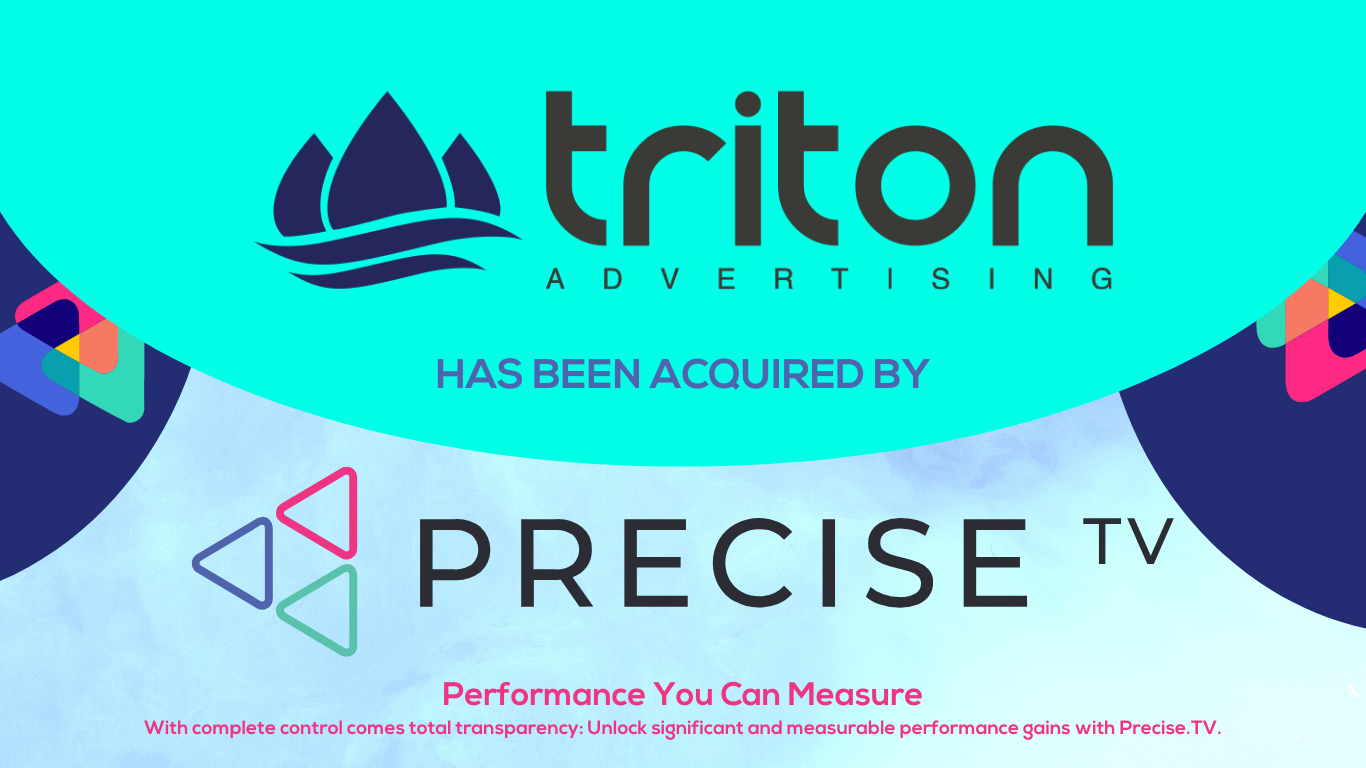 Additionally, Precise TV announced the acquisition of Triton Advertising to bolster Precise TV's media buying and performance marketing capabilities. Triton's consultative approach and revenue-driving performance made it a key partner to major holding companies and some of the biggest ad spenders in the world, including All State. This deal accelerates the Precise TV contextual ad platform's ability to help brands buy business outcomes-based premium video impressions across YouTube and connected TV.
"After what's already been a banner year in terms of revenue growth, these are two significant deals to bolster Precise TV's role as a leading performance advertising company in the convergent TV arena," said Christian Dankl, Precise TV Co-Founder and Chairman. "What we've accomplished on YouTube translates very well to connected TV, and IRIS.TV can help us effectively execute across those platforms too. When you combine our expanded connected TV prowess with the media buying savvy of Triton Advertising's talent, you have a very dynamic video ad buying solution that spans platforms and puts an emphasis on bottom line impact."
These developments are particularly well timed in light of the results of a recent Digiday Media report which surveyed brands, agencies and publishers to ascertain how the market is responding as third-party cookies disappear. The report found 51% of advertisers are investing more in contextual targeting. Further, 53% of respondents plan to increase their contextual budget up to 50%.
The Triton Advertising acquisition adds Triton Advertising CEO Scott Hansen to the Precise TV leadership team. Hansen, a well-seasoned advanced advertising solutions veteran, will serve as Senior Vice President, Strategic Sales.
"The Precise TV tech stack is impressive and its ability to deliver business outcomes rivals anything already available in performance marketing," said Hansen. "Having personal roots in NLP and contextual targeting, I firmly believe it's now imperative brands align with contextual relevance to assure not only performance, but brand safety as well. I'm eager to hit the ground running with a formidable team poised for extensive and immediate growth across industries and continents."
A performance platform built atop a best-in-class brand suitability foundation, Precise TV has honed its product offering by applying its proprietary algorithms to develop a dynamic taxonomy to categorize billions of YouTube videos, resulting in an accurate contextual ad targeting offering that requires no personally identifiable information. This engineering feat and video-level approach to the world's biggest catalog of videos now affords Precise TV the massive commercial opportunities to leverage its data science against any video-based platform across the convergent TV-online video ecosystem.
About Precise TV
Founded in 2015, Precise TV is the world's first and leading KidSafe COPPA certified YouTube advertising platform. The award-winning company drives lower funnel business outcomes for brands looking to limit media wastage through contextual video ad targeting. Leveraging a combination of proprietary machine learning models, Precise TV's contextual intelligence enables brand safe, relevant and privacy-compliant video campaigns that reach audiences across YouTube, Facebook, TikTok and connected TV. With offices in London, Sydney, New York, Sarasota and Los Angeles, Precise TV is a member of the IAB Gold Standard and JICWEBS certified Brand Safe. For more information, visit: https://www.precise.tv/.
About IRIS.TV
IRIS.TV is engineering the most open video data ecosystem in the world to power meaningful connections between brands and consumers. Our video data platform provides publishers, media brands and connected tv apps with secure onboarding and activation of their video data and marketers with video-level transparency. Since 2013, we've enabled our partners to build scalable solutions on top of our platform including video-level contextual and brand-safe ad targeting, third-party verification, personalized video recommendations, and measurement & analytics solutions. For more information, visit www.iris.tv