Why YouTube advertising is like making a good coffee
By Nadav Shmuel .
Nov 25, 2021 1:10:00 PM
Running a YouTube campaign is a lot like making a cup of coffee: The more control you have, the better the results ‒ Estimated reading time: 5 minutes
How do you engage a room full of media buyers early on a weekday morning? At a recent Precise TV event hosted at Starcom and designed to engage media buyers in a conversation about the value of control in online advertising, we did it with good coffee.

Together with Sage, Breville's EU brand, Precise TV distributed high quality barista-style caffeine along with a simple message:
"Running a YouTube campaign is a lot like making a cup of coffee: The more control you have, the better results"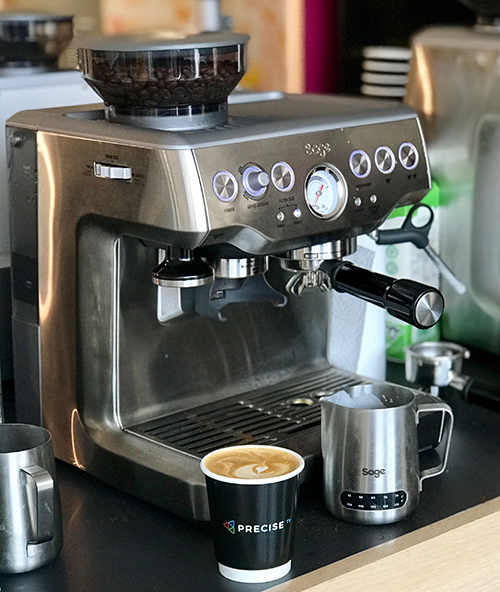 Audience targeting: The instant fix
This is a standard media buy, using keywords, demo and affinity audiences. It's the instant coffee of the online advertising world - quick and easy, but with very little control over who actually views your advertising.
For this reason, audience targeting - much like instant coffee - can leave a bad taste in your mouth for its potential lack of brand safety and poor results.
Channel targeting: The pod approach
Unlike audience targeting, channel targeting offers a degree more control to choose the brand and influencer channels alongside which you'd like your messaging to appear. Like pod-machine coffee there are many flavours to choose from, but the control stops there.
The challenge with channel targeting is that while you may choose to target particular YouTube channels whose overall message aligns with your brand, there's no way to reduce wastage by controlling exactly which video on their channel your material appears next to.
Video-level targeting: The barista experience
Like a fresh cup of barista-made coffee from your favourite micro-roastery, there's just no beating video-level targeting for advertising on YouTube with safety and control. With significant increases on average VTRs when compared with audience and channel targeting, we've built the Precise TV model around this granular level of targeting, blending machine-learning algorithms to analyse videos and identify the most appropriate ones for ad placements, driving up brand lift and purchase intent.
By identifying contextually relevant videos for ads and removing on average 50 per cent of placements deemed irrelevant and unsafe, wastage is minimised and control (and results) are maximised.
Some coffees are so lacking in the right stuff they leave you either feeling like you need another one or regretting having consumed one in the first place.
But when a coffee is perfectly constructed with premium ingredients and expertly served, it ticks every box.
In the same vein, it's critical to think about the level of control you have over your online advertising and the outcome you're trying to achieve. As with the perfect cup of joe, the higher the level of control the better the outcome - for everyone.
Enjoy!