Moments Worth Sharing - Advertising safely to Kids on YouTube
The dramatic rise in online viewing for kids creates many opportunities for advertisers, but there are risks to be taken into consideration.
According to a recent report by PwC, by 2019 big brands and toymakers will be spending up to $1.2 billion annually on online advertising targeted at children aged under 13.
This is double the amount spent in 2016, and is equivalent to a third of all advertising spent on children. Much of this growth is due to a shift in kids' viewing behaviors, as they move away from traditional channels – such as Nickelodeon and Cartoon Network – towards online services.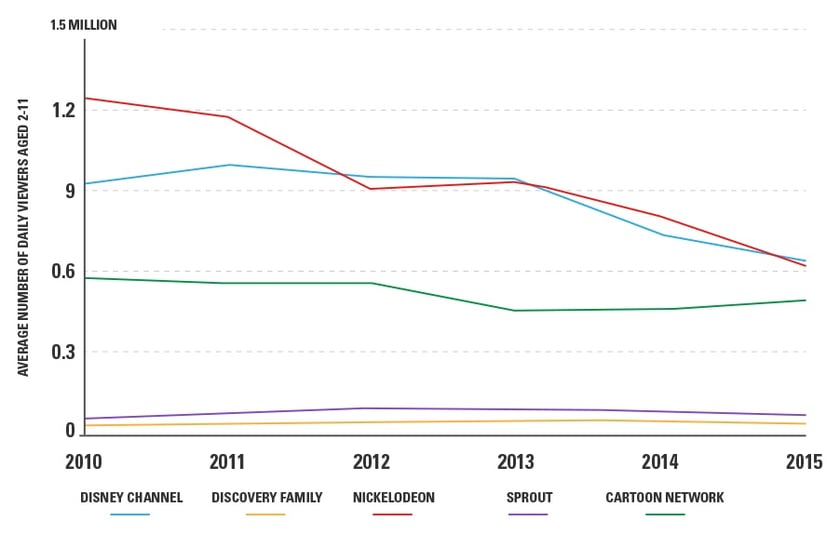 Downward viewing trend of kids TV. Source: PWC
YOUTUBE – THE WORLDS' FAVORITE NANNY
Of the online channels taking up an increasing amount of kids' viewing time, YouTube stands head and shoulders above the pack with an incredible 30% share of kids attention. No other channel comes close. In fact, a recent survey by Ofcom found that 43% of children aged eight to 15 prefer watching YouTube to television, up from 29% just two years ago.
As much as they may hate to admit it, many a busy Mum and Dad have come to rely on iPads and YouTube to amuse their kids while they struggle to get all their essential work done.
A fact that hasn't gone unnoticed by kids' advertisers.
THE ISSUES WITH YOUTUBE
However, things aren't all rosy in the world of YouTube. In fact, 2017 may well come to be viewed as somewhat of an annus horribilis for the platform.
The trouble started in February, when the Wall Street Journal published a story about anti-semitic content posted by erstwhile YouTube poster boy PewDiePie.

The fallout from this led to PewDiePie being fired and ads being removed from premium inventory. For YouTube though, things were about to go from bad to worse.


Later that same month, the Times of London broke a story detailing how ads from major advertisers, ranging from L'Oréal to the UK Government, were appearing next to extremist content. This lead to a mass boycott of the platform.


Finally, and particularly worrying for kids' advertisers, in November the BBC reported a range of child abuse issues on the platform.
Clearly, this does not make YouTube an attractive place for an advertiser to be seen, especially when it comes to advertising to kids.
WHAT IS YOUTUBE DOING ABOUT THE ISSUES?
The truth is, the problems highlighted in 2017 were not new. Issues have been lurking under the surface for some time.
In fact, YouTube is actually safer than most other forms of online advertising. And in a way, thanks to the various exposés in 2017, the platform is actually getting safer all the time.
In a blog post in early December, Susan Wojcicki, CEO of YouTube, laid out a comprehensive plan to improve the moderation of the platform. This is to be achieved through both automated means and by hiring up to 10,000 additional moderators to oversee the service.
However, issues can – and will – always remain. For example, Logan Paul recently caused controversy by uploading a video in which he made jokes at the expense of a dead body in Japan. It was later pointed out that the video in question was actually approved by moderators.
The truth is, one person's video nasty is another person's free speech. And brands must be acutely aware of both. YouTube alone can only do so much, and brands must also take some editorial responsibility over where their ads appear.
But if brands are to safely use YouTube, they need a way to identify and curate specific videos relevant to their target audience and appropriate to their editorial standards. And they need to do so at a scale that allows them to deliver effective campaigns.
The question is, how?
This is where Precise.TV comes in.
SO HOW DOES PRECISE.TV HELP?
Precise.TV uses a mixture of machine learning and manual oversight to analyze YouTube at scale. We curate bespoke channels consisting of only the most relevant and brand-safe videos for any particular campaign.
Our granular methodology provides brands with 100% transparency over their video placements. This not only delivers brand safety, but the editorial relevance also delivers more accurate targeting leading to significant budget efficiencies and performance uplifts of up to 110%.
We understand that as a kids' advertiser looking to maximize the opportunities on YouTube, there's an element of risk to your brand. So to give you complete peace of mind, we've teamed up with kidSAFE, the leading provider of online privacy and safety accreditation.
kidSAFE AND COPPA
In the often-murky world of online advertising, one of Precise.TV's founding principles is to bring as much transparency to the industry as possible. We believe this is vital – not only for brand safety, but also for overall campaign performance.
This position was borne out in January 2017 when Marc Pritchard of P&G very publicly took to the stage at the IAB Conference to rightly call time on fraudulent practices in the online advertising industry.
It's clear that if we want brands to invest in our services, then as an industry we have to ensure we're doing all in our power to ensure we protect both our clients' interests and their customers.
As a result, and following a rigorous validation process, we're delighted to announce that we've been awarded the kidSAFE and COPPA-CERTIFIED seal.
This seal is an FTC-approved safe harbor and is the mark of the highest level of kid safe certification on offer in the market. You can read more about this in our press release here.
But that is not all. Providing a safe environment for advertisers goes beyond just privacy. That goes for all advertisers whether they are in the kids vertical or not. So, in order to provide additional peace of mind we have also partnered with ABC and JICWEBS and in January this year we were accredited DTSG brand safe.

So by working with Precise.TV, kids' advertisers can be sure of not only achieving the best possible performance from their campaigns on YouTube, but they can also rest assured that it will be done in a COPPA-compliant and brand-safe way.
LEARN HOW PRECISE.TV CREATED A YOUTUBE STRATEGY FOR ZURU FIDGET CUBE THAT MAXIMIZED REACH AND GAINED VALUABLE INSIGHTS FOR FUTURE CAMPAIGNS.